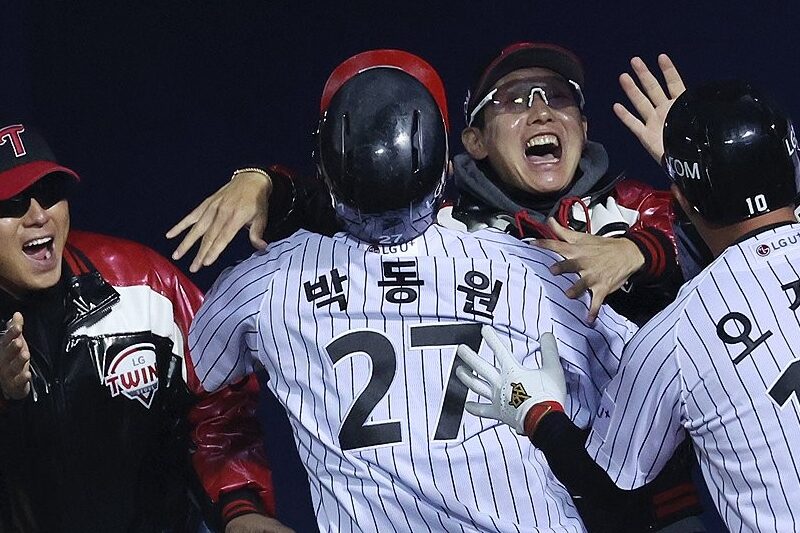 LG Twins manager Yoon Kyung-yeop (55) made an early decision to pull starting pitcher Choi Won-tae with just one out in the first inning. Despite being down throughout the game, Yeom showed his determination to win by using his bullpen pitchers one after another and finally turned the game around in the bottom of the eighth inning. LG defeated the KT Wiz 5-4 in the second game of the Korean Baseball Organization's (KBO) Korean Series at Jamsil Stadium in Seoul on April 8. The team avenged a 2-3 loss the day before and evened the series.
After the game, manager Yeom Kyung-yeop said, "We had a difficult game because our starter, Choi Won-tae, struggled with his pitches early in the game. However, the bullpen held on and set the stage for the win. After reviewing the game, he hoped that "it will give us confidence that we can take the series, not just one game." "Our young bullpen had a very good experience today," he continued, "and it's a big gain. We can use our young bullpen, including Jung Woo-young, Baek Seung-hyun, and Yoo Young-chan, boldly in the remaining games."
He was also pleased that Go Woo-seok, who took the loss in Game 1, earned the save in Game 2 to preserve the one-run victory. "Go Woo-seok didn't pitch badly in the first game. "He was back to his best today," Yeom said, "and the opponent (Moon Sang-chul) hit him well. LG is looking to reach the Korean Series for the first time in 21 years since 2002 and the first time in 29 years since 1994.Yoon Kyung-yeop is back in the Korean Series for the first time in nine years, since 2014 when he led the Nexen Heroes (now Kiwoom). Yoon has yet to win a championship as a manager.
"For me personally, today's win means a lot," he said. Naturally, Choi Won-tae's early strikeout was not part of Yeom's plan. However, Yeom was flexible enough to pull off the upset." We have more cards to play in the bullpen," Yeom said, reiterating another benefit of the win, "Game 3 is Chan-gyu Lim. For Game 4, we have to think about whether to use Choi Won-tae, who threw 200,000 pitches today, or go with Kim Yun-sik as originally planned. There's also a possibility that I'll take Choi Won-tae out of the lineup altogether." He also shared his newfound concerns.
However, the victory in the second game solved the biggest problem. "I really apologized to the fans for losing the first game. I couldn't reciprocate their passionate support, and I couldn't sleep properly." "I'm really happy that our players came together today and showed the fans a good game. Thank you to the players, thank you to 온라인카지노 the fans," he said in relief.