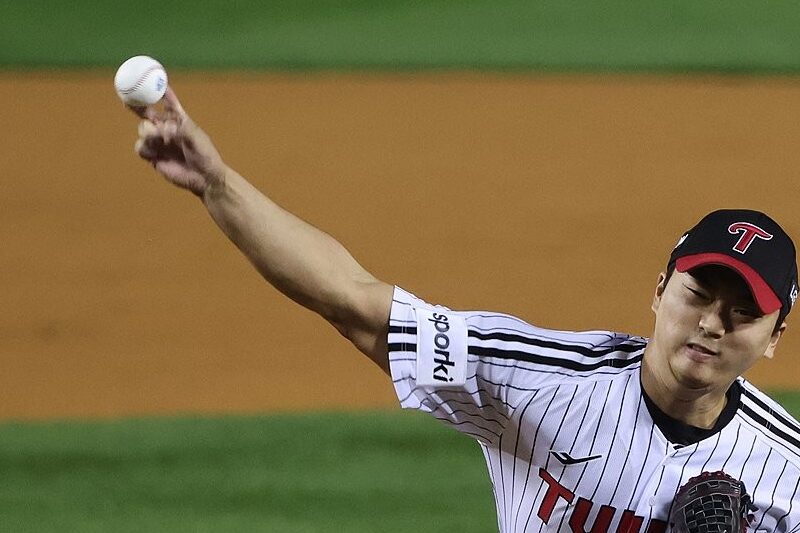 LG Twins closer Ko Woo-seok, 25, is having a tough year. He started the season with an injury after being called up to the World Baseball Classic (WBC) team, and his performance, which included 42 saves and a 1.48 ERA last year, has dropped to just 15 saves and a 3.68 ERA this year. In Game 1 of the Korean Series against the KT Wiz on July 7, he took the loss after giving up a two-run double to Moon Sang-chul in the ninth inning with the score tied 2-2.It was a nightmarish memory, but Ko didn't let it get to him.
With a 5-4 lead in the top of the ninth inning of Game 2 at Jamsil Stadium in Seoul, he faced three batters, Kim Min-hyuk, Cho Myung-ho, and Kim Sang-soo, to end the game. Against the leadoff hitter, Kim Min-hyuk, he boldly used the same curveball he had thrown to Moon Sang-chul the day before to strike him out, and Cho Myung-ho overpowered him with a fastball to get a strikeout.
To the final batter, Kim Sang-soo, he threw two 154-kilometer-per-hour fastballs to induce a weak infield grounder. On the day, LG's seven bullpen arms combined for 8⅔ scoreless innings after starter Choi Won-tae was pulled early for four runs in ⅓ of an inning .Go Woo-seok pitched the final nine innings .After the game, Go said, "Yesterday's game is just yesterday. I tried to concentrate and throw today. It was good that (Park) Dong-won only saw his brother Mitt and threw. "Park, who hit the game-winning two-run homer in the bottom of the eighth inning, called Goh the best closer in Korea.
"Yesterday, I threw well, but one of my curveballs got away from me, and the result was bad, so today I prepared not to go there. We don't have a good closer in Korea. I always believed he would pitch well. "Go Woo-seok responded to his senior's praise by saying, "I was more excited about Dong-won's home run than I was when I closed out the ninth inning and saved the team's victory. I should have hit him (home run hitter Park Dong-won) in the dugout more, but I didn't." "When I came out of the stadium, (Kim) Hyun-soo and (Oh) Ji-hwan asked me if I was feeling well, and (Lim) Chan-kyu told me a lot of good things," he said. "In fall baseball, our team kept failing. Having the experience of failure helped me (recover)."
Go recalled the moment when he pitched the ninth inning and the LG fans chanted the name of the 'Game 1 loss closer'." Even though we had a bad result yesterday, when they chanted my name today, I felt like I was part of the team, so it gave me more strength," he said encouragingly. "I played the regular season and baseball for this game," said the 바카라사이트 former LG fan, who has now secured his first Korean Series victory. It's a great feeling."