Setter Ignae Lee dreams of being the next Pepper
Trinzi and Yasmin-Phillips working hard on English to communicate smoothly
2 transfers in 6 days 'a big deal'
"The fans keep me going We have to do better."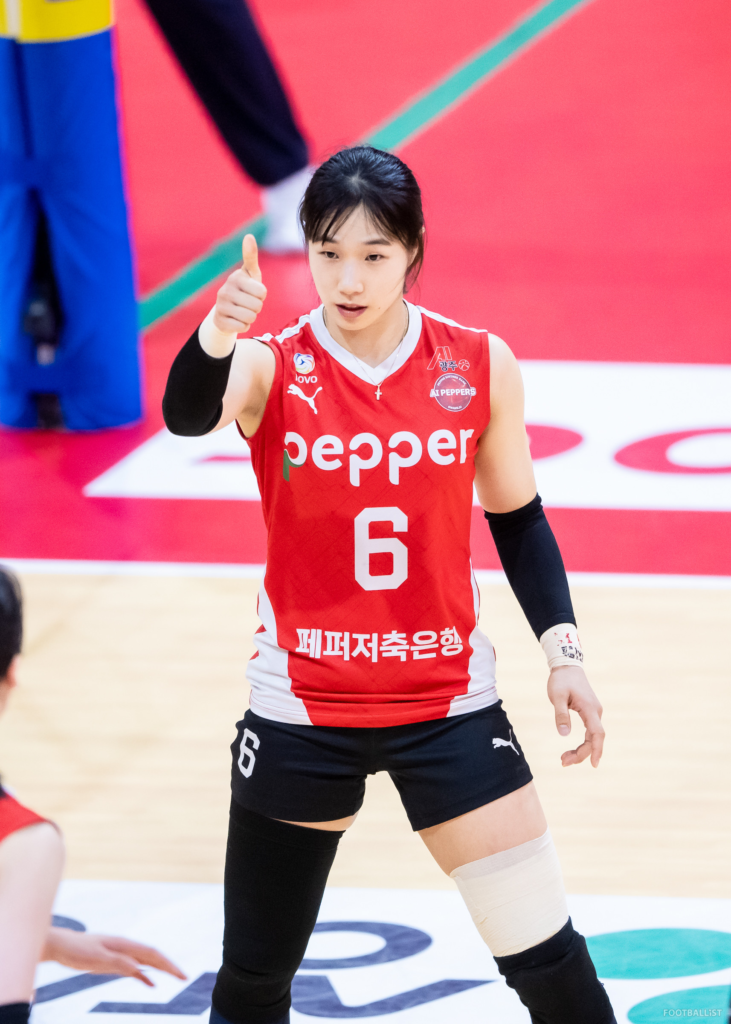 Lee Ig-eun (Pepper Savings Bank) smiles as she takes the set (toss) position at Gwangju Pepper Stadium, the team's home stadium, on Sept. 19. "There are a lot of rookie-level young players, so the atmosphere is lively and the will to learn is strong," said Lee, who has played for four of the seven teams in the women's division.
Lee Ig-eun (28, Pepper Savings Bank, setter) has been looking hard for an English tutor lately. She started by studying English words on her own, but when that didn't work out, she cried out for help. Now in her 11th season of professional volleyball, Igneun suddenly realized she needed to learn English because her team has three native speakers.
Pepper Savings Bank entrusted the reins of the team to head coach Joe Trinzi (36-USA), a former U.S. women's national team coach, this season. The other foreign players are American Yasmin (27) and Asian quarterback M.J. Phillips (28), a dual U.S.-Philippine citizen who also speaks English.
"The coach gives us a lot of detailed orders," said Lee on the 19th at the team's home stadium, Gwangju Pepper Stadium. I thought it would be helpful to learn English to play according to his volleyball style. As a setter, I have a lot of options, so I wanted to communicate well so that I can take advantage of the opportunities."
Those "good options" almost didn't happen. He was sent to Korea Expressway Corporation as a compensation player when Pepper Savings Bank signed off-season free agent Park Jung-ah, 30, and returned to the team in a trade six days later.
"At first, I was upset and in a bad mood, but then I decided to cheer myself up with the encouragement of the fans who said, 'We will support you no matter where you are. I realized, 'This all happened because they needed me. I just have to do better in the future," she said.
After graduating from Daegu Girls' High School, Igoeun began her professional career with Korea Expressway Corporation as the No. 3 pick in the first round of the 2013-2014 rookie draft. She was traded to IBK before the 2016-2017 season, her fourth year as a professional. It was Park Jung-ah who helped her develop from a backup to a starting setter.
"I became a starter for the first time when my sister Kim Sani (42), who was the starter at the time, was injured. I was nervous and frozen, but Jung-ah said, 'Put the ball up to me' and helped me to regain my composure." "We played together for so long that I don't think there was anything special about meeting again this time," she laughed. The two also played together for two seasons, starting with the 2020-2021 season, when Lee became the second Korea Expressway Corporation player after GS Caltex.
She signed a free-agent contract with Pepper Savings Bank before the start of the 2022-2023 season, and has since moved six times. According to the Korean Volleyball Organization (KOVO), she is the player who has changed teams the most in the history of the women's professional volleyball league. In other words, there were a lot of coaches who wanted her.
"When I was a rookie, I thought, 'Let's just make it 10 years,' but I've been lucky to get so many opportunities since I came to the pros. This season, I want to win as many games as possible with my sister Jung-ah and laugh a lot, and I want to achieve more than 'spring volleyball' (reaching the postseason)." Individually, she is also aiming for a top-seven finish.
The 2023 Gumi Dodram Cup Professional Volleyball Tournament, which kicks off on the 29th, will be her first time playing alongside Park Jung-ah in a Pepper Savings Bank jersey. Coincidentally, Pepper Savings Bank's opening match opponent is Korea Expressway Corporation. 토토사이트 In last year's tournament, Pepper Savings Bank suffered an early exit after losing all three group matches 0-3 and finished last in the V-League.