'Lee Soon-min's theatrical goal' gives Team K League a 3-2 win over AT Madrid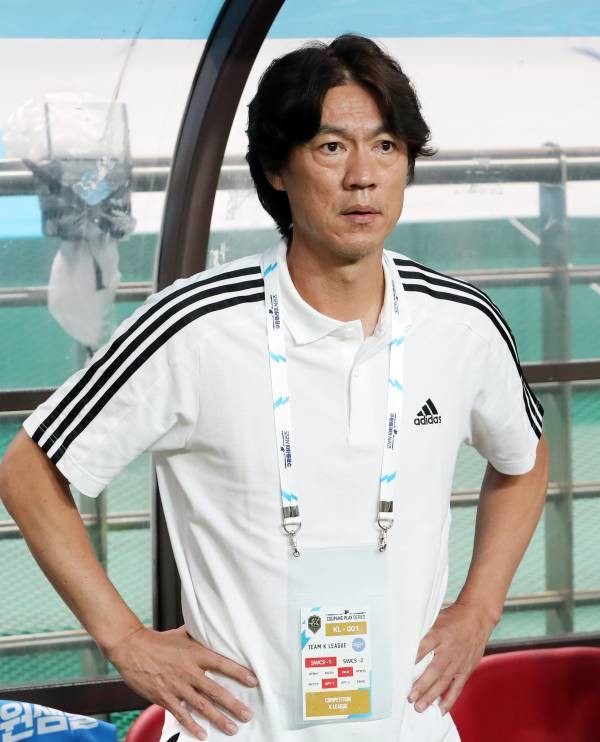 Team K-League All-Stars scored a dramatic victory over Spanish professional soccer giants Atletico Madrid in a friendly match played in sweltering heat.
Led by head coach Hong Myung-bo of Ulsan Hyundai, Team K League won 3-2 against Atletico Madrid in the first leg of the 2023 Coupang Play Series at Seoul World Cup Stadium on July 27 at 8 p.m. thanks to a dramatic come-from-behind goal by Lee Sun-min (Gwangju) in second-half stoppage time.
In the match, which was organized at the invitation of Coupang Play, Team K-League delivered a spicy performance against Atletico Madrid, which is considered one of the three most prestigious clubs in Spain.
"I'm happy that the representatives of Team K League beat such a world-class team," said Hong.
"Our players won in front of a large crowd. There were a lot of fans who supported the League, and I think we did a good job of thanking them by not giving up until the end and scoring a goal to come from behind."
After conceding an early goal in the first half to Atletico Madrid's barrage of attacks, the team showed a fearsome second-half fightback.
"In the first half, there was a difference between us and our opponent, but we were motivated by the fact that we didn't concede more than one goal thanks to goalkeeper Lee Chang-geun (Daejeon)'s saves," said Hong. "In the second half, they were going to change their players, and we thought we could turn it around because we had experienced players. It worked out well."
Hong organized his lineup with domestic players in the first half and foreign players in the second half.
"We trained for about an hour. It's not easy to get a perfect performance, so we paid attention to communication. I thought it would be more efficient to play separately for better communication."
As for why Seol Young-woo (Ulsan) played the full time, he said, "Before the game, we lost Timo (Gwangju), so I can say that Seol covered the shortage of one player with different roles in the first and second half." Timo was left off the roster after testing positive for COVID-19.
As for Atletico Madrid, "I felt that there was a level difference between us and them. I felt they were a well-organized team."
After Lee Soon-min (Gwangju) scored the winning goal in the second half of the match in stoppage time, the crowd chanted "Goodbye" to Ulsan. It's the music that plays when Ulsan wins at home.
"I thought it was Ulsan," said Hong. There were a lot of lights on. It was very nice, and I was happy to win, but I was even happier to hear 'Goodbye' at the end," he laughed.
Simeone, who attended the press conference before Hong, expressed his disappointment with the officiating. There was no video assistant referee (VAR) in the game.
"It was a friendly match, so why should we be so unhappy," he said.
On Simeone's selection of Bae Jun-ho (Daejeon) as an impressive player, Simeone said, "I think he was a bit under pressure today. We know his strengths from the last tournament. 고스톱 It's true that he was a little bit intimidated today."