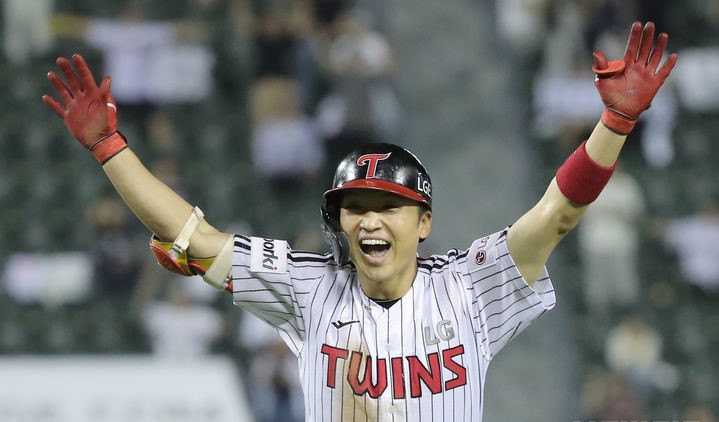 New this year is the Defensive Award for the Most Outstanding Defensive Player
The KBO announced today the nominees for the KBO Defense Award, which recognizes the best defenders by position this season.
The KBO decided to create an official league award to recognize the value of defense and encourage the
improvement of defensive skills across the league before the start of the season.
The KBO Defensive Award
Will be presented to nine players, one from each position, for the most outstanding defensive
performance in the regular season, with winners determined by a combination of 75% of voting points and 25% of defensive record points.
Pitchers are eligible if they have pitched at least one-third of their team's games (48 innings). In addition
to starting pitchers, bullpen pitchers, including middle relievers and closers, are eligible for nomination.
Catchers are eligible if they have played in at least one-half of their team's games (72 games).
Infielders and outfielders are eligible if they have played at least 720 innings of defense in their respective
positions (team games played multiplied by five), and outfielders are eligible if they have played in left,
right, or center field. If a player has played more than one position and has a combined total of 720
innings, they will be nominated for the position in which they played the most innings.
Based on these criteria, 108 pitchers, 14 catchers, 4 first basemen, 10 second basemen, 9 third basemen, 9
shortstops, 5 left fielders, 9 center fielders, and 7 right fielders were selected for each category.
Voting will take place over the course of a week, starting on July 19, with 110 voters – 11 from each club,
including the manager, nine coaches and one general manager. Voters are not allowed to vote for their
own players, and the voting is done behind closed doors.
Austin Dean (LG), Park Byung-ho (KT), Yang Seok-hwan (Doosan), and Chae Eun-sung (Hanwha) are
competing in the first base category, while 10 other players, including Kim Hye-sung (Kiwoom), Kim Sun-
bin (KIA), Park Min-woo (NC), and Kim Sung-hyun (SSG), are nominated in the second base category.
In the third base category,
Nine players were nominated, including Moon Bo-kyung (LG), Hwang Jae-gyun (KT), Choi Jung (SSG), and
Heo Kyung-min (Doosan). In the right field category, nine players were nominated, including Oh Ji-hwan
(LG), Park Sung-seong (SSG), Kim Sang-soo (KT), and Park Chan-ho (KIA).
Five left fielders were named, including Guillermo Heredia (SSG), Jose Pirela (Samsung), and Moon Sung-
joo (LG), while nine middle infielders were named, including Park Hae-min (LG), Jung Soo-bin (Doosan),
and Choi Ji-hoon (SSG). In right field, seven players were nominated, including Hong Chang-ki (LG), Park
Gun-woo (NC), and Yoon Dong-hee (Lotte).
There are 14 catchers, including Park Dong-won (LG), Kim Min-sik (SSG), and Yang Yang-ji (Doosan), and 108 pitchers.
For defensive records
A defensive index developed in collaboration with the KBO's official record-keeping company,
Sports2eye, is utilized, and the scores of two to three defensive categories per position are combined to produce a total score.
The official record score, which includes fielding percentage and range factor, is applied to all positions,
while pitchers are given an adjusted KUZR (KBO Ultimate Zone Rating) score that corrects for batted ball
handling and fielding percentage, catchers for fielding percentage and blocking percentage excluding
unassisted stolen bases, and infielders and outfielders for unearned runs and errors. Catchers' unassisted
runs and KUZR adjustments are calculated using data compiled separately during the season by the KBO
Official Baseball Records Office.
The final results of the inaugural KBO Defense Award will be announced at the KBO Awards Ceremony in
late November, and the winner will receive a trophy and a cash prize of 2 million won. 스포츠토토맨