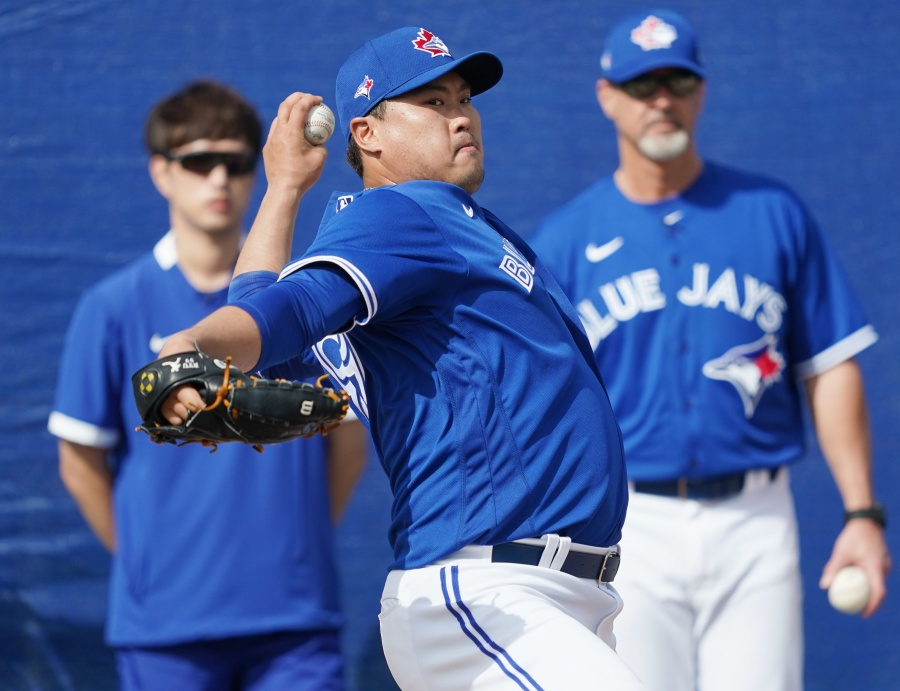 Ryu, 36, who signed a four-year, $80 million contract with Toronto in 2020, took on the role of ace and excelled in the 2020 COVID-19 shortened season, finishing third in American League Cy Young Award voting. Toronto, which had never had an ace on the mound before, realized that this is what an ace looks like.
After struggling a bit in the second half of 2021, but still serving as a pillar of the team's rotation, Ryu battled injuries early in the 2022 season. A soreness in his forearm caused him to be unsettled, and in June he underwent Tommy John surgery to reconstruct his elbow ligaments.
Ryu, who had undergone the surgery in high school, had actually been battling pain in his elbow for several years. The pain would come and go, he recalls. Eventually, the ligaments in his elbow that made his professional career were severely damaged, and he had to have surgery last June.
The rehabilitation period for a Tommy John surgeon is usually between a year and a year and a half. If it's longer, he could be out for a year and a half, which is what we've seen in recent years among players who have undergone this surgery. In Hyun-jin Ryu's case, there are more concerns due to his history of second elbow surgery in his mid-30s. If it took a year and a half, he might not be able to wear a Toronto uniform for much longer, given his remaining contract with the club.
The Athletic, a North American sports publication, also reflected on the situation on Friday, saying, "After it was announced last June that Hyun-jin Ryu needed Tommy John surgery, we speculated that it wasn't easy to see him throwing another pitch in a Blue Jays uniform. Coming back from major surgery is never easy.
If the rehabilitation process actually took up to a year and a half, Ryu wouldn't be able to return until after the 2023 season. Ryu's contract ends in 2023, so it was uncertain whether he would ever throw a ball for Toronto.
However, Ryu worked hard to advance his rehabilitation clock, and after more than a year of virtually flawless rehabilitation, he is now on the verge of returning to the major leagues. He recently completed his last four rehabilitation appearances, and is now working on a timetable for his major league return.
"The Athletic" praised Ryu's progress, saying, "The progress (in his rehabilitation) has been noteworthy," and "At just over a year, and at the age of 36, Ryu is close to returning, and that in itself is worthy of high praise.
Now, the focus is on the timing of his return. For starters, Toronto, which is currently hosting the Dodgers, will not be sending Ryu for the three-game series. There was some speculation that Ryu would start the home series against the Los Angeles Angels on April 29, but the team decided to be more cautious. Ryu will likely make one more simulated pitch and then return for the home series against Baltimore on April 1.
"With Toronto scheduled to play 17 games in 17 days starting this weekend, the Jays could look to move Ryu to the sixth spot in the rotation during that stretch to 사설토토 give other starters extra rest," The Athletic reported.
The outlet noted that the expectations for Ryu are not very high, comparing him to Justin Verlander (40, New York Mets), who also had elbow surgery in his late 30s and returned to impress last year. Both had elbow surgery in their mid-30s and successfully rehabbed afterward.
However, The Athletic noted that "Justin Verlander and Hyun-Jin Ryu are very different. Toronto doesn't need Ryu to be a Cy Young winner, but if he can provide quality innings while providing rest for other starters, that would be a success.
Toronto currently has five starting pitchers (Kevin Gausman, Jose Berrios, Alec Manoa, Chris Bassett, and Yusei Kikuchi). Each had a little extra rest during the All-Star break, and with the second half of the season just beginning, it's not the time to be physically exhausted. However, with a 17-game, 17-day schedule, Ryu could be helpful. In this case, a six-man rotation will ensure that players get extra rest.
Add to that the fact that Ryu pitches more than five or six good innings, as The Athletic reports, and Toronto could have a lot to play for. In fact, the entire starting rotation's "freshness" could depend on Ryu. This could be crucial in the final stretch of the season. With four solid rehab starts under his belt, expectations are high, both locally and globally.