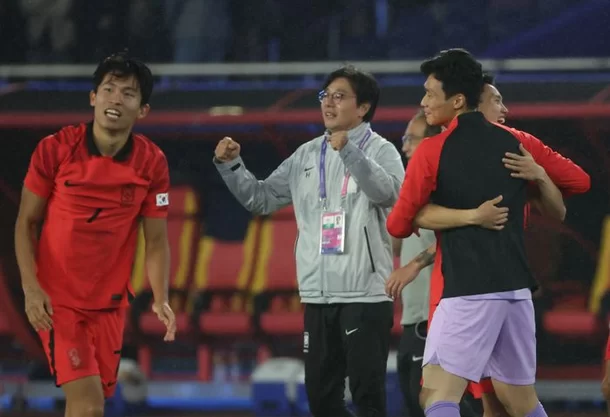 With a question mark over his head, coach Hwang Sun-hong answered with a gold medal.
Hwang Sun-hong's U24 team came from behind to win the men's football final against Japan 2-1 at the Hangzhou 2022 Asian Games at the Huanglong Sports Center Stadium in Hangzhou, China on Sunday (July 7).
The victory marks the third consecutive gold medal for Korean football at the Games, following the Incheon 2014 and Jakarta-Palembang 2018 editions.
The national team seemed to panic as they conceded right from the start. Japan struck first in the second minute when Kane Sato used his quick feet to break down the flank, and after a scramble in front of goal, Gotaro Uchino fired a powerful shot into the back of the net.
The Koreans immediately counterattacked, and in the 27th minute, they managed to equalize. The hero was Jung Woo-young.
Jung rattled the Japanese net with a header off a cross from the right flank by Hwang Jae-won. With his eighth goal of the tournament, Jung Woo-young clinched the top scoring honors and became Korea's fourth all-time Asian Games goal scorer, joining Seo Won-jung (4) in 1990, Hwang Sun-hong (11) in 1994 and Hwang Eui-jo (9) in 2018.
After settling down, Korea pushed harder and harder at Japan. In the 11th minute of the second half, Jung Woo-young tried to shoot from the edge of the box, but a Japanese defender tackled him down, allowing Cho Young-wook to calmly finish the goal to complete the comeback.
To seal the victory, coach Hwang Sun-hong brought on Song Min-kyu and Hong Hyun-seok for Jung Woo-young and Ko Young-joon in the 17th minute of the second half, and again 10 minutes later, Uhm Won-sang and Ahn Jae-joon came on for Lee Kang-in and Cho Young-wook to reinvigorate the team. After holding on to the lead until extra time, Hwang Sun-hong celebrated as the gold medal was sealed.
After leading the team to victory, Hwang Sun-hong was able to put a smile on his face.
Hwang, who is also in charge of the U-23s, was criticized for his team's early quarterfinal exit at last year's AFC U-23 Asian Cup, and he faced criticism ahead of the Asian Games for playing two exhibition games against China that were deemed unnecessary.
The process of selecting players was also troubling. Hwang Sun-hong was under fire for selecting Lee Sang-min, who had a drunk driving conviction, and was hardly smiling throughout the tournament.
Even when his team scored two goals in the final, Hwang kept a stoic face, and when the final whistle blew, he hugged his coaching staff and 카지노 smiled all over. Afterward, Hwang walked onto the field and hugged each of his players to celebrate the victory.