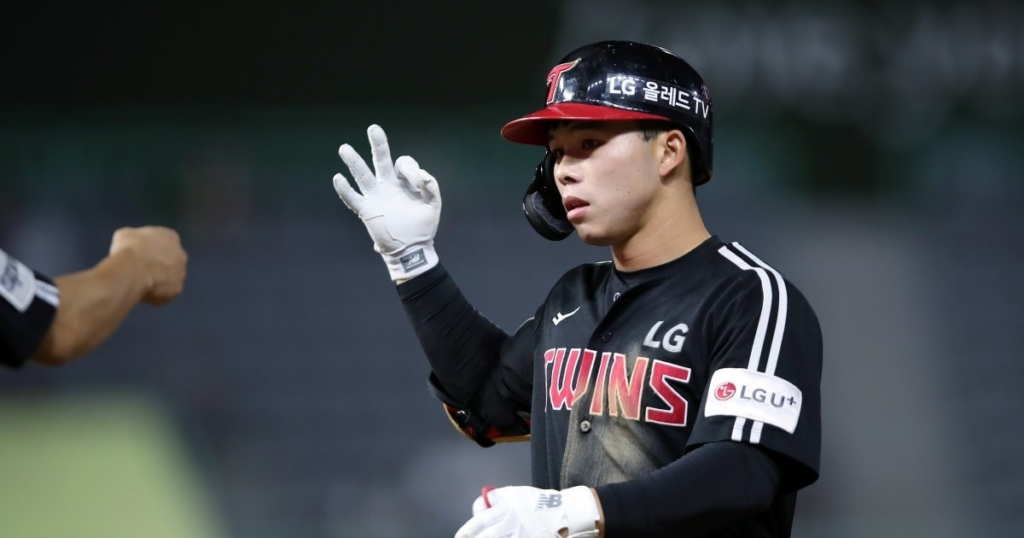 LG's Moon Sung-ju, who is on second base with no outs, makes a gesture after hitting a single and reaching first base in the eighth inning of the baseball game between LG Twins and SSG Landers at SSG Landers Field in Munhak-dong, Michuhol-gu, Incheon, on June 27.
After a five-game losing streak, leader LG became the first team to reach the 50-win plateau.
LG failed to protect an early five-run lead and allowed a 6-6 tie before scoring three runs in the top of the eighth inning to win 9-6 against visiting KT at KT Wiz Park in Suwon on June 27. It was the first win after a five-game losing streak and the first win after a three-game losing streak since the All-Star break.
LG won its 49th game this month with a victory over Lotte on Aug. 8. However, the rainy season and the All-Star break prevented them from playing many games, and they lost all five games they did play. It took them 19 days to go from 40 to 50 wins. It was the first time since 1995 that LG reached the 50-win plateau.
LG gave up a leadoff home run to KT's Lee Ho-yeon in the second inning, but quickly responded with a big inning against KT starter Cuevas in the top of the third. They scored six runs on an RBI single by Oh Ji-hwan, an error, and a two-run homer by Moon Bo-kyung.
However, KT, who had been on a roll since the end of the first half, fought back. After scoring one run in each inning from the third through the fifth, they tied the game in the bottom of the seventh when pinch-hitter Park Byung-ho hit a two-run double down the right field line with runners on first and second. Park became the 14th player in KBO history to reach 1,100 RBIs.
Just as the shadow of the losing streak was about to fall, Moon Sung-ju came to the rescue. With runners on first and second, Moon lined a single to left field to make it 7-6. Moon finished the day 3-for-5 with a home run, one RBI and two runs scored to lead the offense.
With runners on second and third, Kim Hyun-soo hit an RBI double. With a 9-6 lead in the bottom of the ninth, LG sent Ham Deok-ju to the mound in place of Ko Woo-seok, who pitched a two-hitter, to close out the game. Manager Yeom Kyung-yeop said after the game, "We were able to win the game because our pitchers, Jung Woo-young and Ham Deok-ju, pitched well in the final innings. I think today's win is a victory that can turn the tide."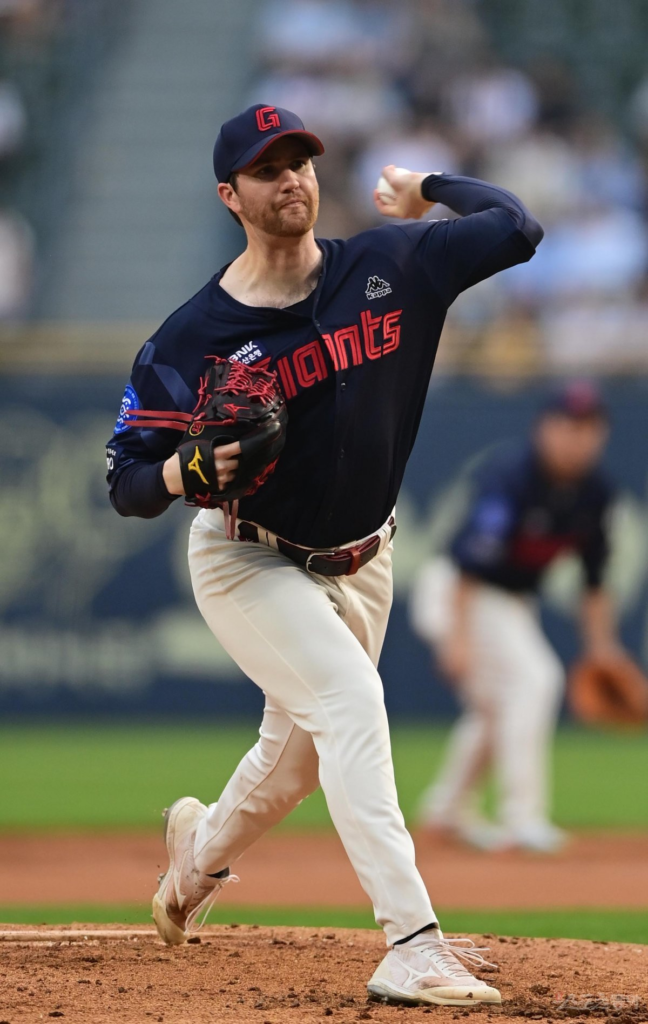 Lotte starting pitcher Barnes throws a pitch during the 2023 Shinhan SOL KBO League baseball game between the Lotte Giants and the LG Twins at Jamsil Baseball Stadium in Songpa-gu, Seoul, South Korea, on June 1.
Lotte rode a seven-inning, one-run performance by starting pitcher Charlie Barnes and a batting lineup that combined for 12 hits to a 9-1 victory over Doosan at Jamsil Stadium in Seoul. With its second straight win, Lotte moved back into fifth place in the standings, two games ahead of KT, which lost earlier in the day. Doosan, which had won 11 straight games to start the month, was swept by Lotte for the second straight day.
In a tightly contested pitching matchup between Hanwha and Kiwoom, Kiwoom won 2-0 to snap a six-game losing streak at Anbang. Kiwoom ace Ahn Woo-jin earned his seventh win, allowing two hits and one walk while striking out 10 through the eighth inning with a fastball that topped out at 158 kilometers per hour. Hanwha starter Ricardo Sanchez also pitched well, allowing two runs (one earned) on two hits and four walks in seven innings. The game lasted just 2 hours and 12 minutes, the shortest game of the season, as both starting pitchers delivered masterful performances.
Kiwoom Heroes pitcher Ahn Woo-jin.
In another matchup of aces, NC defeated KIA 4-0 in Changwon. NC ace Eric Peddie pitched seven innings of five-hit shutout ball to improve to 14-2 and remain atop the all-time wins list. KIA starter Yang Hyun-jong suffered his sixth loss in five and two-thirds innings, giving up four runs on eight hits and five walks. Samsung defeated SSG 6-5 in the nightcap in Daegu. Samsung center fielder Koo Ja-rook went 3-for-3 with a home run and four RBIs. SSG's Choi Jung-ho hit his 20th home run off Samsung closer Oh Seung-hwan in the ninth inning, 카지노사이트 marking his eighth consecutive 20-homer season.